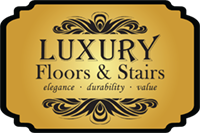 Get Affordable Luxury
Hardwood Flooring Today!
Transform Your Home from Ordinary to Extraordinary with Premium Wood Flooring
If you are ready to get rid of that dirty old carpet, replace that outdated tile or upgrade your existing flooring – we can help transform your home's interior from ordinary to extraordinary!
We offer 100% solid hardwood floors or engineered wood floors, along with safe, expert installation services.
If you are a homeowner looking for the highest quality flooring for the best prices in the Greater Dallas area, we can't wait to help you.
At Luxury Floors & Stairs, We Make Luxury Affordable with Our Wide Variety of Wood Flooring that Fits Any Budget & Style
Whether you are looking to replace your old, worn-out carpeting, upgrade your existing flooring or repair your damaged wood floors, we're the flooring company that's got you covered. For over tweny years, we've been serving the Greater Dallas/North Texas communities, installing a wide variety of genuine and engineered hardwood floors in homes and businesses.
Our Products & Services Include:
Genuine Hardwood & Engineered Wood Flooring
We design, provide and install genuine hardwood and engineered wood flooring for any size project. With our large showroom, extensive buyer network and custom design solutions, we can provide a wide variety of both domestic and exotic hardwoods like oak, mahogony, bruce, cherry, pecan, blonde gray slate, bamboo, teak and more. We've also got all types of engineered wood, including luxury vinyl plank and more. If we don't already carry your desired type of wood – we'll find it for you.
Hand Scraped Wood Flooring
One of our most popular products is our hand scraped wood flooring. Hand scraped floors are 100% unique on every project – no two hand scraped floors ever look the same. Replacing carpets with wood flooring can completely change the look, feel and perceived value of your home; going with hand scraped floors takes your home to a completely different level. They add a feeling of charm to any room and with the weathered or distressed look – they almost feel like they have a story to tell. They're an outstanding upgrade to any hardwood floors.
Hardwood Flooring Installation
Our certified hardwood nail down installation experts can quickly and efficiently install the hardwood floor of your dreams in any room in your home. Our team has over twenty years of experience in all sizes of projects. We will show up on time, take great care while installing your floors and leave your home or business as clean as it was when we arrived. 
Wood Floor Refinishing
Refinishing hardwood floors is a quick and easy way to bring your tired and worn looking floor back to new. Depending on size, most floors can be refinished and complete in only 2 days. With todays enhanced products and techniques, hardwood floor refinishing is a relatively painless process.
Hardwood Floor Repairs
Our flooring experts can repair and/or replace almost any damage you may have incurred on your wood floor. From water damage to scratches and gouges, we can seamlessly blend the repair into your existing hardwood floor.
Engineered Wood Flooring Installation
The installation of engineered wood flooring is quick and relatively clean compared to that of a hardwood floor. Depending on the type of flooring selected, engineered wood flooring is set in place with a durable glue product that adheres the flooring to the surface of the home, usually concrete. Our hardwood flooring services are very reliable and efficient.
Engineered Wood Flooring Refinishing
While most consumers believe that an engineered wood, with its very thin veneer layer cannot be refinished, that is not true. Depending on the thickness of that layer, we are able to convert most engineered wood flooring to a true hand scraped hardwood appearance in only a couple of days. 
Engineered Hardwood Flooring Repair
Repair of engineered wood is a straightforward process. It generally depends on product availability, and the degree to which the existing product has weathered/faded when compared to the newly installed repaired section.

We are Proud to Offer the Following Selection of Genuine Wood, Hardwood, Engineered Wood Flooring:
bamboo hardwood flooring
brazilian cherry hardwood flooring
bruce hardwood flooring
cherry hardwood flooring
floating wood flooring
hand scraped wood flooring
mahogony hardwood flooring
maple hardwood flooring
engineered wood flooring
laminate wood flooring
prefinished wood flooring
luxury vinyl plank flooring
oak hardwood flooring
pecan hardwood flooring
plank wood flooring
teak hardwood flooring
We are Proud to Offer FREE ESTIMATES for Anyone Looking to Upgrade Their Home Flooring. At Luxury Floors & Stairs, We Make Luxury Affordable for You!
Fill out the form and we will contact you right away to schedule your FREE ESTIMATE…



Engineered Hardwood Floors





We are proud to offer FREE ESTIMATES for anyone looking to upgrade their home flooring. At Luxury Floors & Stairs, we make luxury flooring available for you!