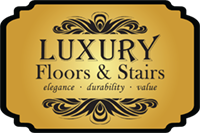 Get Affordable Luxury
Hardwood Stairs Today!
Transform Your Home from Ordinary to Extraordinary with Premium Wood Stairs
If you are ready to get rid of that dirty old carpet, replace that outdated tile or upgrade your existing stairs – we can help transform your home's interior from ordinary to extraordinary!
We offer 100% solid hardwood floors or engineered wood floors, along with safe, expert installation services.
If you are a homeowner looking for the highest quality Stairs for the best prices in the Greater Dallas area, we can't wait to help you.
We are Proud to Offer FREE ESTIMATES for Anyone Looking to Upgrade Their Home Stairs. At Luxury Floors & Stairs, We Make Luxury Affordable for You!
Fill out the form and we will contact you right away to schedule your FREE ESTIMATE…



Engineered Hardwood Floors





We are proud to offer FREE ESTIMATES for anyone looking to upgrade their home Stairs. At Luxury Floors & Stairs, we make luxury Stairs available for you!